Page 7 of 7 •
1, 2, 3, 4, 5, 6, 7

Darcis being totally outplayed right now

UES




Posts

: 631


Join date

: 2017-01-28



I really know nothing about Noah as he played before I took up tennis. Tsonga strikes me as a better athlete than tennis player.  La Pouille can play great tennis and he can also go off the rails and lose matches he should win.  So no skin in the game for France, a country that hasn't produced home grown slam winners for way too many years.

Darcis is by no means a spring chicken.  If he's not too exhausted he could trouble Pouille with a wily game that drove Nadal nuts.  For some odd reason Darcis can't resist the urge to block back serves that allow Pouille all the time in the world to put away.  At this point it seems a near impossibility for the Belgian coach to corral Darcis into taking more risk and hitting bigger returns.  Goffin cannot be happy.  Kind of like Swiss Davis Cup until Wawrinka hooked up with Magnus Norman and decided he was good enough to win big.  Hard for a small country to gather enough talent to win Davis Cup.  Tall order for one man.

wcr




Posts

: 1116


Join date

: 2017-01-31


Location

: Gstaad



Thinking the same thing about Goffin's situation being like Roger's before Stan came into his own. Takes more than one player to win Davis Cup

UES




Posts

: 631


Join date

: 2017-01-28



wcr, I was living in France and already following tennis since a moment, when Noah won Roland Garros. It was extremely emotional, his father was there (he came from Cameroun where he lives and was living at that moment), his mother (she is French), it was really beautiful. and against Wilander! I also followed Noah in his life, a bit. When he decided to quit tennis, incapable of dealing with the fame, when he decided to become a singer, and all he does for his culture and country. I also like his fearless speeches. I would be delighted if he wins another DC.

By the other side, I am NOT sad for David. He carries the Belgian team almost alone (Darcis helped him in this year campaign, it seems, I did not follow). If France wins, David can still be proud of having give Belgian 2 points and played 2 excellent matches. He is ready for next year, our David.

Márcia




Posts

: 2770


Join date

: 2017-01-26


Location

: Rio de Janeiro



Congrats to France! I am really happy for them- so many old guys who will retire but who played such a big part in DC over the years. This is for them too.
David will need a second player if his country is going to win DC. But what a great couple of weeks he's had. Hope he has a tremendous 2018.

ph∞be




Posts

: 947


Join date

: 2017-01-29



Congratulations to France. Me also, I am really happy. Many players I really like, and what a good match Pouille was capable to play.

As I said, David should not be too sad. Just wait and help the venue of a second good Belgian player to help him. Already a final, excellent.

Márcia




Posts

: 2770


Join date

: 2017-01-26


Location

: Rio de Janeiro



The best of both world... France finally gets the Cup, happy for them, they worked hard for it, and loosing today would have been an unimaginable deception!
Belgium can be very proud of their performance. Goffin did everything he could in this final, with two great matches, ending his season on a high. Darcis just wasn't up to it today and, your are right,
Márc19f
, David can't do it alone. Belgium would need another strong player or a good double-team. Had they won the doubles, they would be the one holding the Cup now.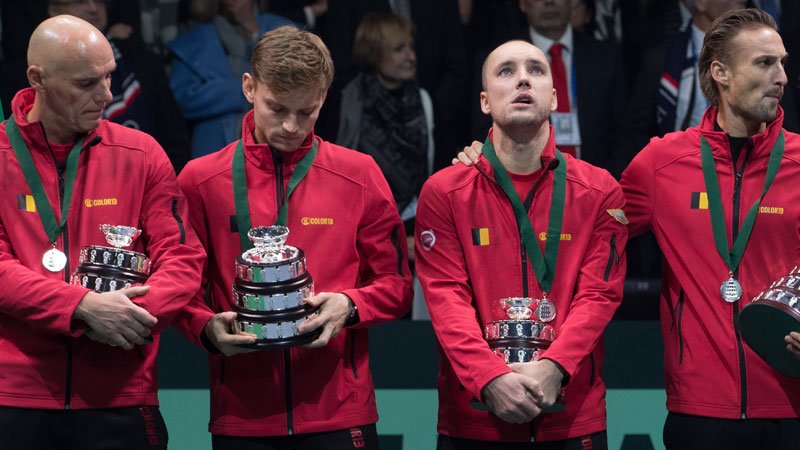 The runner-up - A bit tough for Darcis, I imagine...
And the euphoria of the Champions!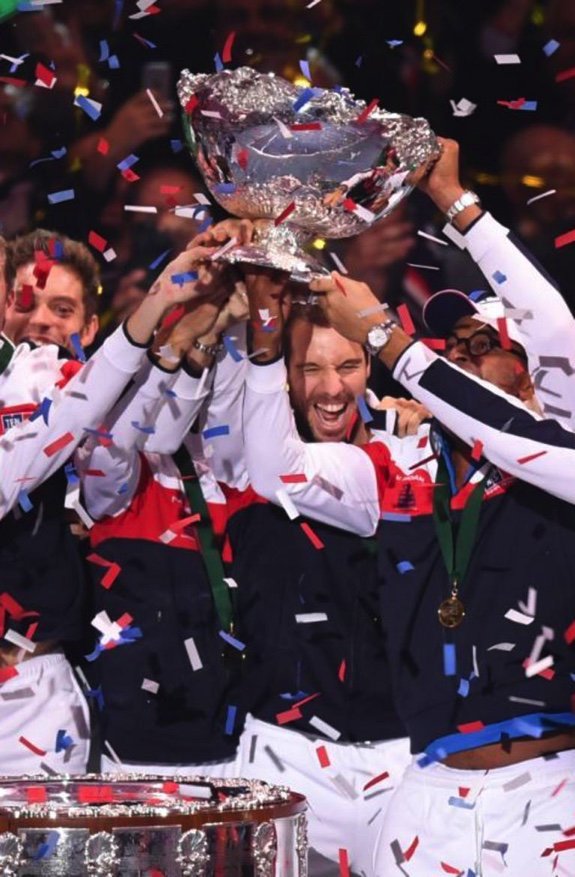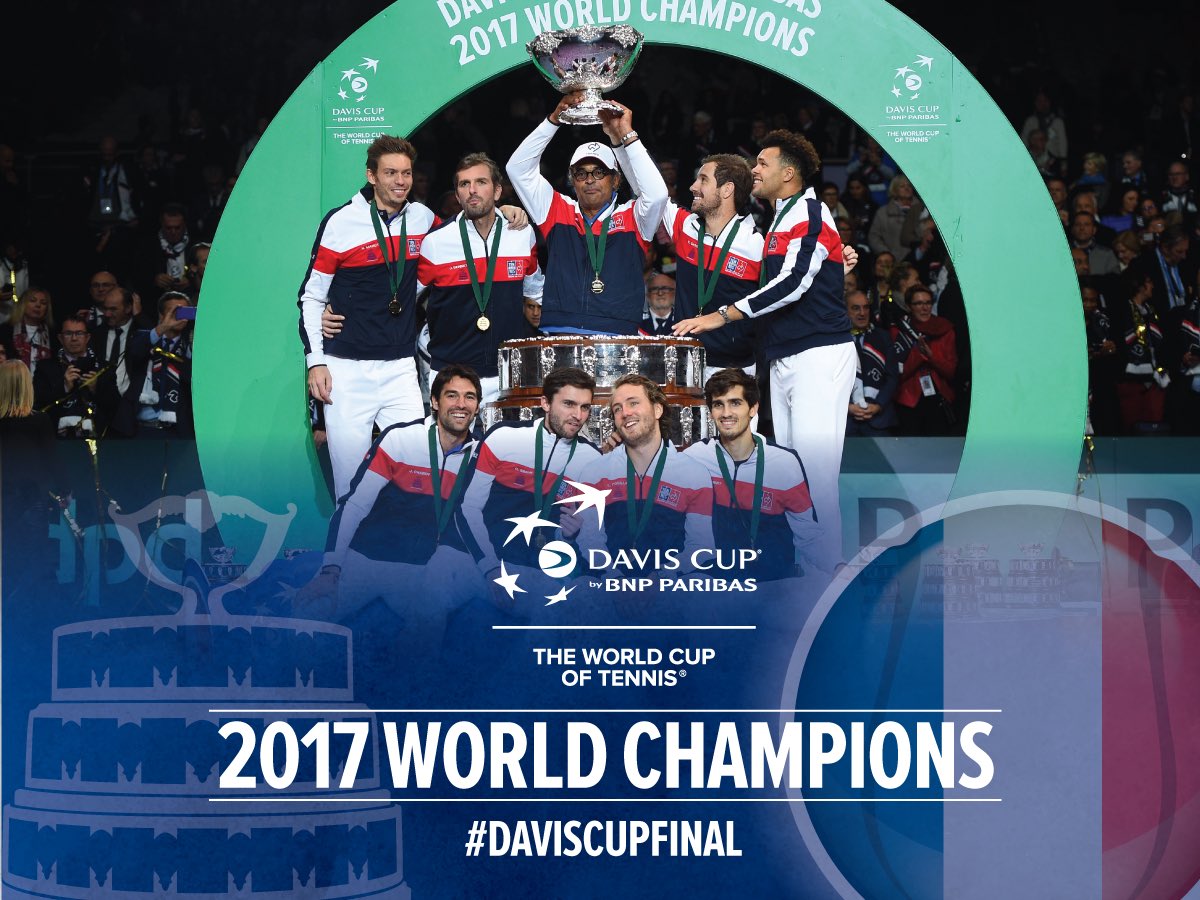 Cromar




Posts

: 2477


Join date

: 2017-01-24


Location

: Montreal, Canada



Davis Cup congratulations to my preferred players, who all happened to be on the French team.
 I would have liked them all to have won all of their matches, but that would have meant the Belgian team being on the wrong end of a 5-0 whitewash, which would have been extra tough. Or maybe not as tough as the tie going to the deciding rubber, who knows.  Goffin won both singles rubbers; good for him.  But the important thing is - the
saladière
goes to my preferred players.  
Bravo, les gars!
I'm pleased for them.
Commiserations to the Belgian team.  They look fairly crushed in the pic above, particularly Darcis; not surprising really.

Thandi




Posts

: 1118


Join date

: 2017-06-30



Actually, the Belgium team was very gracious in their defeat, Goffin looked OK. The whole team congratulated personally every member of the French team. Someone twitted that the French should take a lesson from them!  Made me smile

That was, obviously, in reference to three years ago, when France lost to the Swiss!... Totally dejected and it showed!

Cromar




Posts

: 2477


Join date

: 2017-01-24


Location

: Montreal, Canada



Actually, cromar, the French were very gracious and sweet immediately after Roger won- warm, affectionate hugs all round. The little fracas occurred after in the locker room. I was looking at some of the highlights of that wonderful day in 2014 and it seems to me that there were many more people there and everybody stayed right till the end.

ph∞be




Posts

: 947


Join date

: 2017-01-29



Page 7 of 7 •
1, 2, 3, 4, 5, 6, 7

---
Permissions in this forum:
You
cannot
reply to topics in this forum