A great interview with Roger's first 'official' coach at the Swiss training center 22 years ago. Some interesting details about the development of his game.
Translated from French
"Roger will remain a kid player all his life"
Coach of Tunisian Malek Jaziri, Christophe Freyss was the head coach of Roger Federer for two years at the Swiss National Center of Ecublens. He takes a sharp look at the one that has become a global phenomenon.
Picture: Corinne Dubreuil
Mathieu Aeschmann - Le Matin
13 January 2018
Christophe Freyss, when you look at Roger Federer today, what is left of his technique when he arrived at Écublens in 1995?
The player who arrived at the national center at the age of 14 was obviously talented but still very unstable.  We worked a lot technically, especially on the backhand.  With this shot, as with the serve or volley, I see the fruit of much work. However, there is one thing that already existed and that I remember not wanting to touch: his forehand preparation and this ability to lower his racquet head just before the impact to whip the ball with a very active hand. This gesture belongs to him. It has always been his (he mimics the movement).  And  he was capable to easily find the cross-court zones, long and short, when he shifted sideways. This exceptional wrist, this incredible eye, everything was already there.
So the goal was to protect that shot?
Exact.  I was telling him just to lengthen the end of the movement, so that his contact with the ball would be a little longer.  The idea was to get a better strike without altering its explosiveness.
For the backhand, however, you are talking about a much more ambitious project.
With the backhand, we can really talk about a construction.  I remember two or three sessions where I was throwing him the balls by hand.  And when a shot came out well, I would say to him: "Memorize the path of your racket, remember how you came over on that hit." We were working on weight transfer, his shoulders line which he was struggling to hold.  In slice, Roger was even doing a very weird thing with his head.  It was going backwards at impact as if he did not want to see the direction his shot was taking.  This image stayed with me, very precise.
Since his victory last year and the progress of his backhand, there is a debate between those who have seen a technical evolution and those who favor a change of attitude.  Your opinion?
Frankly, I do not see any noticeable technical evolution.  I think rather that Roger has come to the following conclusion: I am a certain age, the guys are stronger than me physically, so I am going to lose the least possible ground to shorten the exchanges.  As a result, he uses his slice less and takes the ball at the top of the rebound.  Be careful, Roger has been offensive for twenty years.  But he pushed this approach even further by refusing to lose a inch of ground.  In my opinion, it is this determination that has advanced his backhand.
Is Roger Federer still able to surprise you?
Yes.  Sometimes I even wonder how he can have the idea of ​​playing certain shots.  In Basel, for example, he followed his service with a backhand drop shot that literally stopped.  I've seen a lot of tennis stuff for forty years.  But, there, I was astounded.  It was a shot of pure talent.  Obviously, people are delighted, they applaud.  But, deep down, I do not think they measure how exceptional it is.
How did he resist the transformations of the game for twenty years?
In fact, I think he has always anticipated them.  For us, with hindsight, the evolutions are quite logical: there are cycles of big attackers then big defenders, etc.  But in the 1990s, I was wondering: what could a player do better to become stronger than Sampras?  At first, there seem to be room for a better backhand and a bit more chest.  Like about the portrait of Roger Federer.  Today, young people are striking at a speed that could not be suspected twenty years ago.  It's impressive.  But things are missing in their game. But what does Roger do?  He resists, absorbs their speed, and then exploit their weaknesses.  I have the impression that each time he knew what he needed to continue doing or change to stay on top.
And he will be 37 next August...
There is no adjective... Perhaps we should invent one.  It is incredible that he still has this desire, this freshness, this need to win.  It is vital.  He loves the game above all else.  But, when I think about it, this passion was already there in Ecublens.
What do you mean?
Every morning, I had the pro group from 10 am to noon.  Roger would come out of school around 11 am and wanted to play.  I would say to him, "No, you will play this afternoon." So, he would play against the wall of the storage room, which made a impossible racket (noise).  I would tell him to stop.  He would obey for ten minutes then crack and start again.  At one point we got fed up.  I said to the guys, "We're going to scare him and put him all dressed in the shower." I knew we would not go all the way, but I wanted to scare him.  We carried him up to the locker room... It shocked him.
This need to play, to feel the ball in his racket, you still see that in him?
Completely.  Roger will remain a kid player all his life.  And fortunately.  Because this is also what allows him to produce incredible shots.  Many other guys lost that pleasure along the way.  Not him.  Each time he sends the ball to the ball kids, even by volley, even from the other corner of the court, it lands in their hand.  In Miami, I watched this little game and said, "It's not possible to be so laid back."
As an individual, what do you feel when you see him playing and winning again?
It touches me, obviously.  I look at him in my corner and I see that what we had put in place during these pivotal years was actually quite right.  The fundamentals we worked on proved strong enough for him to build on.  I feel satisfaction, pride, emotion too.  The year of his first title at Wimbledon (2003), I was there with a group of ITF juniors and he left me a ticket.  When I saw him on that court, at ease as in his garden, it touched me.  Really.
And when you meet him on the tour ...
We exchange a few words and we always reminisce about some souvenir of Ecublens.  As Severin (Lüthi) was also part of the gang, everyone has kept small stories, all different.
The shower gag has already been debriefed?
Not yet.  But you are right, I'll have to bring out this file (laughs) .

Cromar




Posts

: 2652


Join date

: 2017-01-24


Location

: Montreal, Canada



Roger Federer of Switzerland, who is currently ranked world No.1 in men's singles tennis by the ATP, talks to the media at the Miami OpenTennis tournament 2018, on Thursday, March 22, 2018.
Pedro Portal
10 Questions with Roger Federer
By Michelle Kaufman
| Miami Herald
March 22, 2018
Roger Federer has been playing tennis on Key Biscayne since he was a junior in the Orange Bowl tournament. He is back at the Miami Open for the 17th time, and first time as world No. 1 since 2010. He sat down with the Miami Herald on Thursday and answered 10 questions...
Q: Have you ever driven in Miami?
A: Yes, of course. I'm at the wheel 90 percent of the time here. I like driving in America because in general you can overtake left and right on the highways, which in Switzerland you're not allowed to do. There, you can only overtake left, and if you overtake right, you get a fine. Also, I like to turn right on red in America. It's like, hey, look at that, I'm turning even though the light is red. So, that's good for traffic. I enjoy it. It gives me a sense of freedom. I put the windows down, turn the music up, it's great. I love it.
Q: What do you listen to in the car?
A: I listen to Sirius radio. Here, when I'm in Miami, I go back to my roots, listen to BPM and all the dance channels. Or, I listen to Chill. Sometimes I go to 80s, 90s and 2K. I like listening to a lot of dance music when I'm in Miami to get into the whole pulse here. I like listening to some Latin radio, too.
Q: Where do you like to take your kids when you're in Miami?
A: We like to take them to the museums, the Children's Museum. Sports activities. They like going to the beach and parks.
Q: As the parent of four young children – two sets of twins -- what parenting advice would you give to parents of twins or multiple kids?
A: I try to spend alone time with two kids at a time. Sometimes I can get a half hour alone time with one at a time, but with four, it's hard to find the time. The problem when you have a lot of kids, sometimes you stay on the surface a bit too often, and you need to talk to them. In the end of the days, between six and nine o'clock, when they go to bed, this is when everything unwinds and you can talk to them about how they're feeling, do they need to tell me anything? For me, it helps to have a schedule for the kiddies. You have to maintain a rhythm with bedtime and meals, bathing. Wherever we are in the world, they know that's a given. The rest of the day is playful and educational.
Tennis star Roger Federer sent tennis fans into a tailspin on Monday, March 19, when he said tennis balls are yellow, not green.
 —
Delaney Dodd via Storyful
---
Q: Life mantra you live by?
A: Respect everyone. Be honest. I once heard this saying, it said "It's nice to be important, but it's more important to be nice." I heard that way back when I was 18, and I feel it sums up how I feel.
Q: If you weren't a tennis player, what would you be?
A: A retired soccer player by now. I was hoping to be a soccer player once upon a time. I liked midfield and scoring goals, but in the end I chose tennis because I didn't want to blame the goalie or defender, I wanted to be in total control. But if the question is what would I do as a retired tennis player, I'd dedicate my life to philanthropy, to my kiddies, to being a good dad and husband.
Q: Your house is on fire, and you have to run in and take out three items. What would they be?
A: I don't need anything from the house. As long as everybody's safe, it's all good.
Q: You've traveled to so many places in the world. Is there anyplace you haven't been that you'd like to go?


A: I'd love to travel to Africa more extensively. I'd love to go on a road trip in Europe and see Italy and France and Germany and Austria and maybe summer in Sweden, Finland, Norway. I'm passionate about Asia. I've been to many of those places, but just seen the big cities from a tennis perspective. I'd like to go out in the country more, even here in America, I've always flown and you don't get enough scenery. That's why I like to drive in the cities. I drive in Melbourne, Dubai, Miami, Cincinnati, Basel, in Sydney on the other side of the road, drove in London. It gives me a better sense of orientation.
Q: If you could be a rock star, who would you be?
A: Angus Young from AC/DC, amazing guitarist. I've seen him in concert. I used to play the piano. Would be cool to be like Elton John, to be able to sing and play the piano. It's very inspiring and I love listening to it.
Q: What's in your racket bag?
A: I have a racket bag and a tennis bag. In the tennis bag I have seven match shirts, four pairs of socks, underwear, shorts, headband, wristbands and another pair of shoes. In my racket bag it's eight strung rackets, a bar to eat, my drinks, a marker for signing stuff, my badge somewhere, I can never find it, and sunglasses.
Roger Federer talks to the media at the Miami Open tournament on Thursday, March 22, 2018.

Cromar




Posts

: 2652


Join date

: 2017-01-24


Location

: Montreal, Canada



A different kind of interview, an easy read. I had forgotten about the wardrobe malfunction at Wimby! 
Exclusive interview: The life and style of Roger Federer
The record-breaking tennis ace and Moët & Chandon global ambassador talks exclusively to GQ about his inimitable personal style, both on and off the court
By
Stuart Brumfitt | GQ
30 May 2018
Bernard Arnault calls him "a living god", Bill Gates eulogises him in the latest Time 100 list and Anna Wintour is his biggest fan. Having LVMH's CEO, the world's second richest man and publishing's most powerful woman on your cheer team doesn't happen without reason. Of course there's the on-court brilliance and the records he's racked up (20 grand slam singles titles), but it takes meeting Roger Federer to truly understand how he's charmed such a squad.
After a lifetime of intensive exercise, quality eating, globally accrued sunshine and limited late night partying (although as a
Moët & Chandon
ambassador, presumably the odd glass of
champagne
), the man positively glows. And as a result of all his success, there's a smooth social confidence, a statesmanlike quality that the world's most successful can't resist.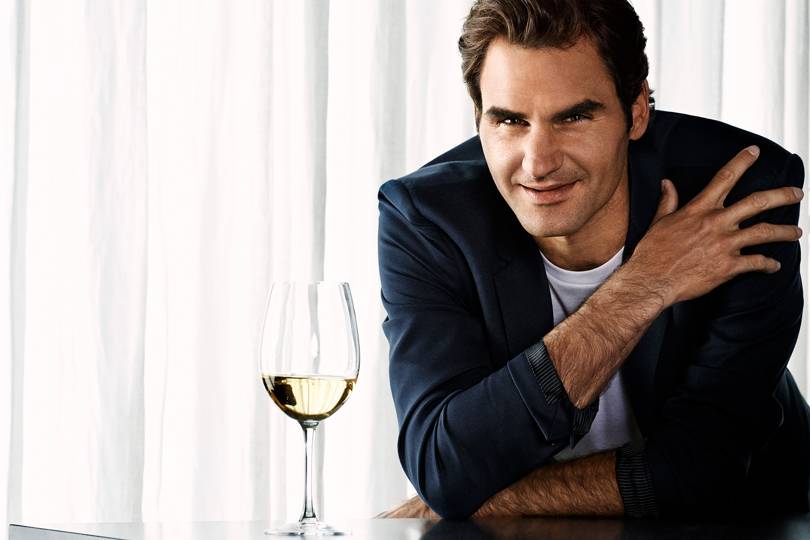 After skipping his second clay court season - meaning he'll miss out on the chance of another French Open title, but improve the likelihood of winning another Wimbledon - talk of Roger's retirement has bubbled up again, but he insists that while he'll miss "the goosebump feeling" when he does eventually quit the court, his ultimate dream is to be known more for his foundation than for his tennis. It's the reason why the French elite gathered in Paris last week: for the launch of 20 limited edition bottles of Moët & Chandon Grand Vintage to celebrate his 20 years of tennis success, with the profits of the sale (each leather-wrapped magnum costs €19,998) going to the Roger Federer Foundation, which aims to improve the lives of underprivileged youth in Southern Africa and Switzerland.
With Federer dazzling in Dior Homme, we took some time to talk to him about his evolving sports silhouette, tennis's perennial backwards cap, those Wimbers blazers and his very own wardrobe malfunction.
Red carpet style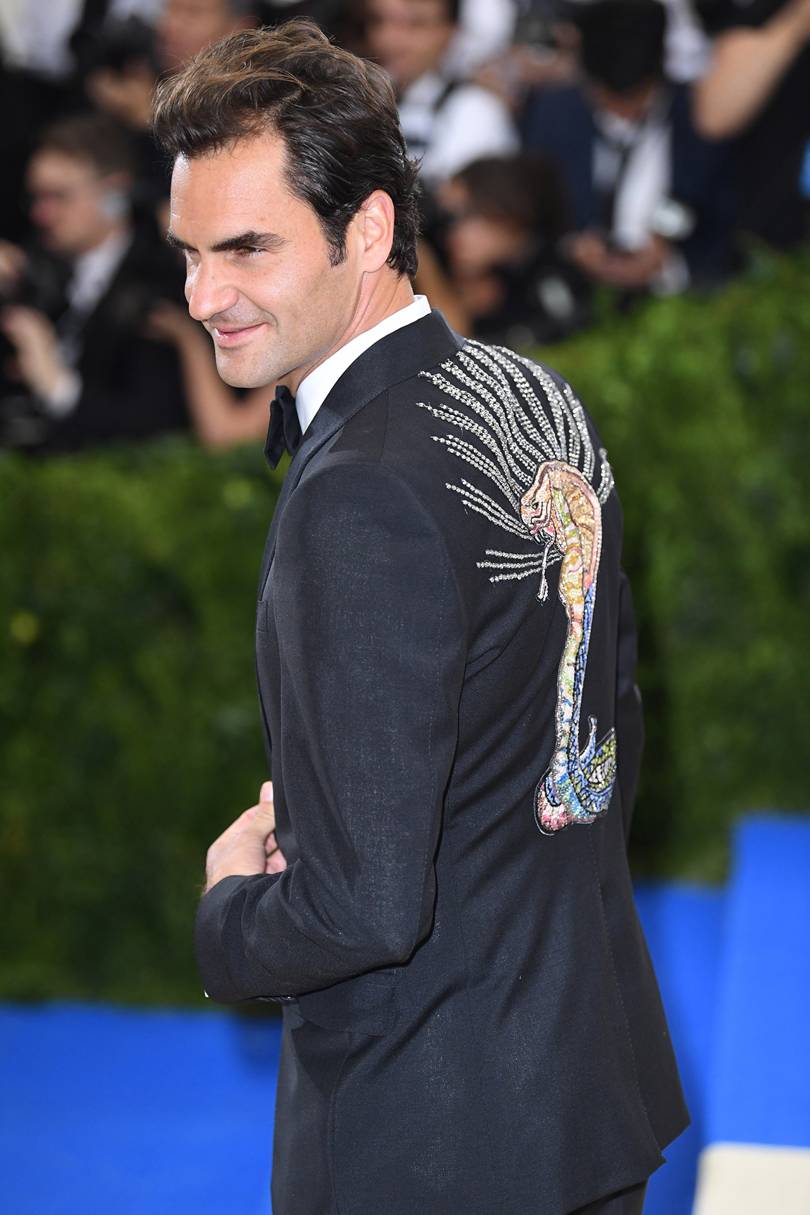 Image Shutterstock
"I used to wear jogging shoes, jeans and a practice shirt, then when Mirka met me, she would look and go, 'Errr, are you sure about this look?' She was sophisticated early on. She would save her money and buy something proper, whereas I was happy without much. Over time, you realise you have red carpet appearances, you need a suit, you need a tie. And by the third time wearing the same tie on the red carpet, you're like, 'Maybe I should have different ties, different suits, different black shoes for a change.' I started to enjoy making changes, trying out a few things, different combinations. You're happy to get dressed up, especially in the big cities like Paris, London or New York and go out."
Big style
"I don't understand how I used to wear  extra large, but that's how we used to dress. Sampras and Agassi used to wear this baggy stuff. It was just a trend, so in hindsight, I think, 'Was I crazy to wear XL at 17?' But you wanted to think you were big and buff, even when you weren't yet. Now we look stronger and slimmer because of the way we wear it. That's where the power of clothes is so important: it really can change your entire look. Look what Rafa did, when he went from the sleeveless tops and the Capri pants to the more sophisticated look and you're like, 'Oh my god, he looks much more muscular and like he lost weight', but he didn't do anything."
On-court style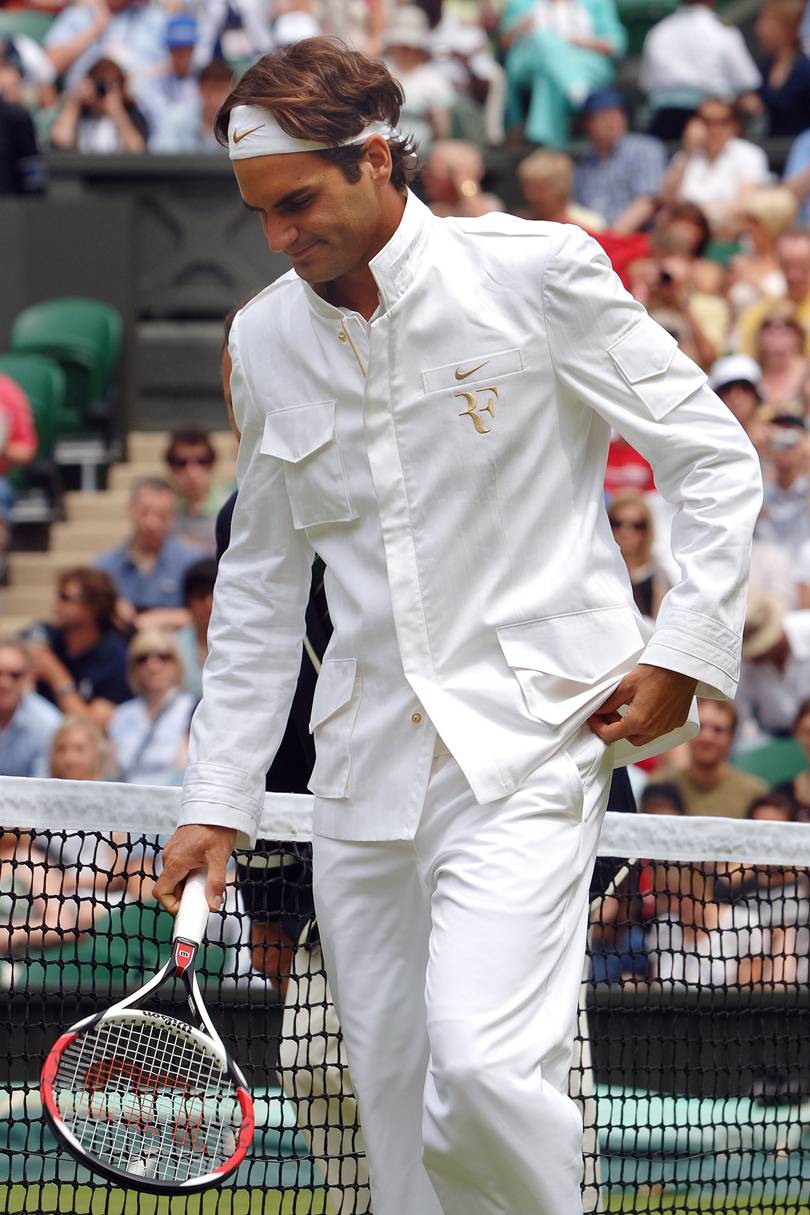 Image Shutterstock
"At Wimbledon, we tried to bring back the history of the game when they walked out in jackets or cardigans. We tried to push the envelope – sometimes a bit too much. But it was fine. These moments stay memorable, and I was willing to take chances. There was the all black at the US Open, which was a pretty big deal, because nobody really wore all black. When somebody wore black shoes, it was like, 'Wow, black shoes!' It was especially good at night. I think that tennis has always had a big opportunity to mix it up. We have 12 different outfits a year and tennis has a lot of history and street cred. We've kind of lost that because it's got so aggressive and everything has to be breathable, durable, the shoes and everything. We've moved away from it, so I've tried to bring a little bit of style into tennis."
Dad Style
"Honestly, I think it keeps me young because around them I try not to wear clothes that they can destroy or make super dirty when I'm picking them up, running round in the mud or going for a barbecue. I think they keep me young for the most part. With the girls, we're starting to head in the direction where they start to like to be alone sometimes because Dad's not cool anymore. They're not there yet – they still like it when I'm around. I think we're a few years away, but soon they'll be like, 'It's OK, Dad. We're OK alone.' That will be the first time I'll be really sad."
Hairstyle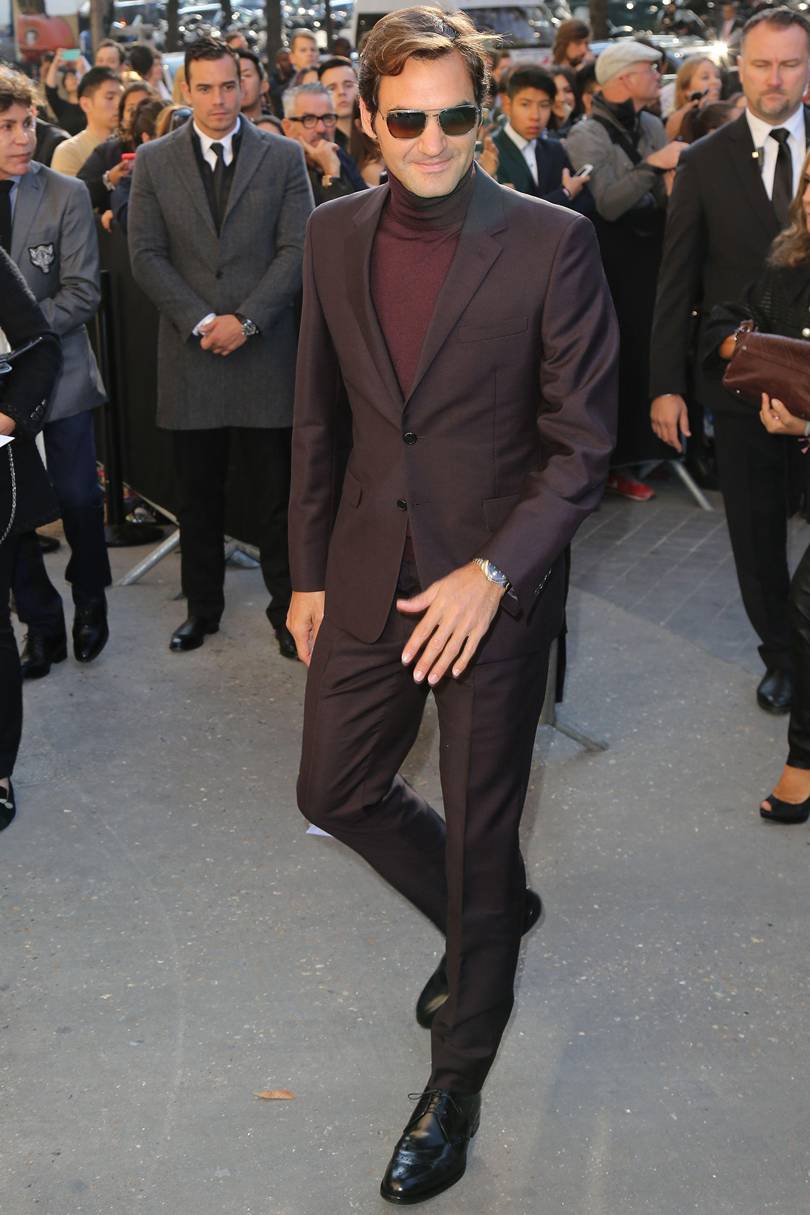 Image Shutterstock
"Everything was part of an evolutionary process, like the long hair. Do I regret having long hair? No, I'm happy I had it and I'm happy I got rid of it again! It was just a part of my life. We wore the cap backwards just to keep the hair out of our faces. Instead of having it in front where you toss the ball and it can sometimes get in the way, backwards just works. But now I think the headband is just easier overall."
Bad style
"Maybe putting my pants on backwards in the Wimbledon ceremony! Back in 2005 or 2006, I was so excited I won, I wanted to put on the whole outfit that we'd made together. I went to receive the trophy and as I walk down, I'm a bit nervous and as I put my hands in my pockets, I realise that the pockets are going backwards. I was like, 'It's too late! I can't change them any more!' I lifted the trophy and the pants were on backwards. You could hardly see it, but I think one British media picked it up and were like, 'What's going on? He's got the zipper at the back.' That was quite embarrassing!"
---
The magnum of Greatness Since 1998 by Moët & Chandon is priced at €19,998 and will be available exclusively through clos19.com in the UK. Funds will go directly to the Roger Federer Foundation.
As one of our most-read pieces, this article was emailed, in its entirety, to all our GQ Commuter newsletter subscribers. Do you fancy receiving our top story of the day, straight to your inbox, at 6am every weekday - ready for your day ahead? Just enter your email address onto this newsletter sign-up page , and consider it done.

Cromar




Posts

: 2652


Join date

: 2017-01-24


Location

: Montreal, Canada



Wonderful interview with Christohe Freyys.  He saw what was special about Roger early on. I like how he understand that love of the game and not tiring of it and being so absorbed by it that a talented player keeps on getting better is due to that childlike quality of play. Children frequently played with great intensity, no matter if it was some self-intented game. Then, they were not self-conscious either, which is something that even top tennis players on occasion suffer from if they are having problems.  The pure merging of the child's self into a game is creative. Roger has always been creative and remains so to this day.--I enjoyed Roger's interview also. He talks easily and naturally, and with good insights. He has a very good idea about his children, letting them be and at the same time being careful to provide content that brings that sense of constancy and security, especially because they travel so much. Mirka is a magician, I think, and a woman who revels in her man's talent and its fulfillment. It has been good for Roger, as I think I heard him say somewhere that his parents gave him enough room when he was growing up, but he did acquire the requisite decent manners.--Well, I never noticed the pants on backward  at Wimbledon! I was too taken with had just transpired.---These articles, interviews came to me as a gift on Sunday, June 03/2018. And yes, Roger can look very elegant, worldly, but I do like him in anything he wars. Really, after all, clothes can help, but I turn the old axiom around because I often noticed it to be true: the MAN or WOMAN makes the clothes.

**I want to add to my above comments, that as other people noted Roger's appeal, it is obvious to me and everyone else too. He is never supercilous, he is natural in all circumstances always being himself, and he has a magnetic personality without trying. I think it is his being himself, without trying, and the fact that he considers other people seriously.

HeartoftheMatter




Posts

: 275


Join date

: 2017-08-17



A recent interview with Credit Suisse about Roger's values and respect in life...
As fan, I hope we can all live by those words:
Respect is a central value in my life. For me, it's important that my fans get on well with the fans of other players, and don't insult or argue with each other just because one person thinks I'm the best, another person thinks it's Djokovic, and someone else prefers Nadal. Just as I respect my opponents, I expect my fans to do the same.
ROGER FEDERER
"Respect is a central value of my life"
He has 15 million Facebook friends and 6.7 million followers on Instagram – for many people, Roger Federer is a hugely influential role model. How does he handle the constant public attention and what values does he want to convey to his fans?
Everything that celebrities do is observed scrupulously. Some constantly have to think carefully about how they do their hair or how they dress to avoid negative headlines. What is it like for you?
Completely different. I don't have a hidden life. People know what I do and what kind of person I am. That also means I can do what I want and this is a good thing. I don't want to have to live my life pretending, I just want things to be normal.
You are always in the spotlight. Does it ever bother you?
I was lucky that I had plenty of time to get used to this life. You could say that I've grown into it. This was a big advantage for me.
Nonetheless …
Mobile phones can definitely be a problem sometimes. I can understand it when fans pull out their phones to take a photo of me – they might never see me again and want to seize the opportunity. But, as a family man, I get really annoyed when somebody takes a photo of my children without asking.
Do people always expect you to be at their disposal?
That can happen, but overall, my experience of people is that they are very understanding. When I say that I'm happy to have a selfie taken with them, they think it's mega cool. On the other hand, when I say no or when I'm concentrating on the game on match day, they understand. As an individual athlete, I definitely have an advantage over those who are part of a team, such as footballers, who also have to attend team events. I can largely decide for myself when I make myself available to my fans and the public.
Do you treat all fans the same?
Honestly?
No. I have a hierarchy of importance. For autographs and photos, children come first. I also give special consideration to people with disabilities. And if other athletes want a photo, I can't say no. Of course, all my fans are important. I really appreciate the money they spend on tickets and travel just to see me.
What values do you want to convey to your fans?
Respect is a central value in my life. For me, it's important that my fans get on well with the fans of other players, and don't insult or argue with each other just because one person thinks I'm the best, another person thinks it's Djokovic, and someone else prefers Nadal. Just as I respect my opponents, I expect my fans to do the same.
A typical tennis value.
Yes, that certainly is part of it. Sometimes, tennis may not be quite as euphoric as football. That is a shame, but our sport is strongly connected with decency and respect, which is something that I value very highly.
Are there boundaries that you do not want to overstep in your role as a global role model?


There are many things that others understand better than me, so I don't need to know everything. If you freely express your opinion, you will offend many people. This is why there are topics that I don't speak about publicly and that belong to my private life. I also don't want people to think a certain way just because Roger Federer does.
Why do you think you are so popular in so many countries?
I often hear that it has something to do with how I play tennis – that I symbolize the bridge between the old and new generation. Sometimes, people say it's about how I present myself. When things were going well, people admired me. When things didn't go so well they said, look, Federer has to lose too, that must be tough. I am sure that gained me extra fans as well.
You have 15 million friends on Facebook and 6.7 million people follow you on Instagram. Do you still get fan mail?


Everybody who writes to me and sends a stamped reply envelope or stamps usually gets a reply. This is all handled by my parents. I get at least 15 to 20 letters every week. My parents still show me the best ones. In fact, my Dad just brought me a few cards to sign.
What about the importance of social media?
For me, discovering social media was like going on a trip to an exotic island. It took me almost two years to get involved. A friend explained everything to me in a 30-minute crash course, and I have used social media ever since. I write all my posts myself, whenever I feel like it or whenever I have something I want to communicate. But I've quickly come to realize that it is quite time-consuming to post something cool.
What is the aim of the Roger Federer Foundation?


My foundation supports educational projects in southern Africa and Switzerland. In Africa, we are working towards improving the quality of education in primary schools and for early childhood. In Switzerland, meanwhile, we are focusing on promoting extracurricular activities for children from low-income families. We hope that children and their families who didn't get the same chances in life as we did will be able to benefit from our work. I do it because I enjoy it. It allows me to fulfill a dream of my own and, at the same time, help make the dreams of others become a reality. I hope that I can inspire others so maybe they will then say: "Hey, Federer is doing something good, I could do something too."
Do you have your own role model?
I've got a few. In sports, it's Michael Jordan. In the 1990s, he was the king, and back then I always watched basketball. My favorite tennis players were Edberg, Becker, and Sampras. At some point I also got to know other personalities such as Bill Gates, people with incredible stories who have dedicated their lives to philanthropy.

Cromar




Posts

: 2652


Join date

: 2017-01-24


Location

: Montreal, Canada



This is straighforward, and clearly already well formed, since he simply talks about the issues without having to hum or ah about it. He shows a great understanding and awareness.
He is right that respect in life is important. I also like that he encourages fans to show respect.
My basic attitude would be respect, but at times I have a failing when I see unfair practices or unfair and bad behaviours.
Nonetheless, I have tried to improve, and to a certain extent I think I have. But here again is another example why some other players' transgressions irritate me so much in contrast to his.
For players, too, having the respect for opponents and rival is vital, otherwise it becomes a distraction.
Thank you for your thoughts, Roger!
And thank you for posting this here.

HeartoftheMatter




Posts

: 275


Join date

: 2017-08-17



Roger, if you can't find your badge, one day they won't allow you on to the court because in this world people have to "prove who they are".

It should be instructive for some players how well prepared you are, with extra everything, shirts, socks, shoes, etc. in your bag.

HeartoftheMatter




Posts

: 275


Join date

: 2017-08-17




---
Permissions in this forum:
You
cannot
reply to topics in this forum